As far as Bitcoin miners go, there are dozens and the market is saturated. Bitcoins are also becoming increasingly more scarce. Litecoins, however, are still relatively new but are quickly gaining in popularity. The currency is based on the Bitcoin protocol but offers a few advantages over Bitcoin, such as faster transaction confirmation. With an increasing market cap, now is the time to start mining Litecoin.
In this review we're looking at the KnCMiner Titan Litecoin Miner. There are a few key areas to focus on. Speed is obviously among the most important factors, since faster mining abilities mean a higher likelihood of finding new Litecoins.
The quicker a unit can mine, the quicker the user will recover his or her investment and start making profits. However, other factors such as the form factor and convenience of setup must be taken into consideration as well. With that said, let's take a look at the new Titan from KnCMiner.
Titan's Speed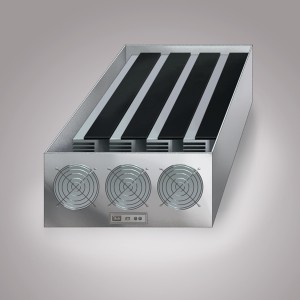 The Titan promises 100 MH/s, which is a pretty substantial rate of mining any scrypt based coin (Litecoin, Dogecoin, etc). This puts it ahead of most other Litecoin miners that are currently available, and certainly puts it ahead of comparably priced units.
Although older GPU based Litecoin mining rigs had success in the past, those days are gone and now ASIC based devices rule the market. The introduction of the Titan will change the litecoin mining space and destroy all GPU based rigs (don't by Video cards, their days are numbered).
The Titan is based on the existing Jupiter and Neptune units. The primary difference, aside from other tweaks to the hardware, is that there are blades of cards inside the unit.
Power Supply
Unlike some other, more rigid setups, the Titan does not include its own power supply. It's compatible with an ATX power supply, which the user provides on their own. Although this at first sounds like a downside, it's actually a pretty nice plus - every Litecoin miner has their own setup. By allowing custom configurations on the power supply, KnC allows users to purchase the Titan and make it fit into their own setup.
KncMiner Reliability and Reputation
The company that manufactures the Titan is KnC, short for Kennemar & Cole. They've produced several other units for both Litecoin and Bitcoin mining. While the Titan should technically be able to mine Bitcoins since the two currencies use the same algorithm, KnC developed the Titan specifically for mining Litecoins.
This makes it an easy product to buy into - KnC has delivered sterling results in the past with consistent delivery of its devices. While other miners will sometimes offer one speed while delivering another, KnC is consistent in its hardware specs and what the performance ends up looking like.
Pricing of the Titan
With all of the hardware discussed, the next thing to take a look at is the availability and pricing of the unit. KnC has slated the unit for a release as early as the second quarter of 2014, although the unit may not be made available until as late as September. It's set to retail for just under 10 thousands dollars at $9,995. KnC should be releasing more information about the unit and its availability as we get closer to launch.
Overall, the Titan unit is a very solid option for both experienced and novice Litecoin miners alike. The unit's priced very competitively with similar devices in its category. With its level of mining power and the flexibility with which users can set it up and get to mining, it's going to be relatively easy to recover the cost in a reasonable amount of time. Litecoin may still be a little new, but the Titan represents an experienced approach on how to get it right the first time.
Thanks for visiting www.topbitcoinmininghardware.com, if you liked this article please use our social buttons to give us the thumbs up. Also check out our Bitcoin Miner Comparison Table.