As an ASIC Mining company that designs and produces Bitcoin mining ASIC chips with top quality processors and systems, CoinTerra prides itself of state-of-the-art design approaches based up-to-date technology. Ideally, this enables the company to provide solutions to ASIC Bitcoin mining with the uppermost performance hardware at lowest die area and power.
It boasts a team of highly skilled engineers with extensive experience in the industry, semi-conductor architects and ASIC chip designers who are well known for designing the world's highest performance GPUs, CPUs and chipsets for Samsung, NVIDIA, Nortel, Intel and Qualcomm.
CoinTerra's team brings remarkable experience in design methodology, power efficient circuitry and implementation to the exciting new frontier of Bitcoin mining. In fact, it is fascinating to note that CoinTerra was established by a group of world-distinguished mathematicians, ASIC chip designers and Bitcoin community developers. Recently, the company closed a $1.5 million funding round from a variety of private investors who acknowledged the company's potential portrayed by its unique team and Bitcoin technology.
What makes CoinTerra stands out among ASIC Mining companies
Unlike most ASIC Mining companies in the Bitcoin market, CoinTerra stands out because it offers several other guarantees. For instance, the company has taken several steps to help prevent the issues that are well documented concerning failure of some Bitcoin hardware vendors to honor their commitment to on-time delivery, price protection and consumer exchange.
1. CoinTerra offers on-time delivery commitment
The company has promised to deliver its rigs within the first 30 days of its December (2013) delivery, but if it fails, then your account will be credited with 20 percent of the amount of hash power in your order.
2. Price protection and consumer exchange
If CoinTerra changes the prices of its TerraMiner systems including TerraMiner IV before its December delivery, the company promises to reprice all its orders based upon order quantity and offer cash refunds or hash power credit. Also, in the case whereby a customer has confirmed an order but his/her circumstances change, CoinTerra will help facilitate customer exchange amongst its existing queue of customers. However, the company does not offer a guarantee of a successful customer exchange.
CoinTerra Levels up with the TerraMiner IV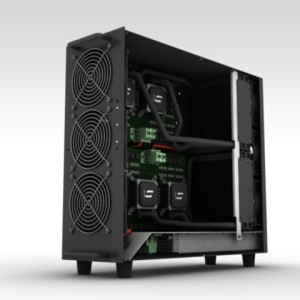 On its official launch at the end of August, the mining company announced what's believed to be the most advanced Bitcoin mining equipment in the Bitcoin market currently, the TerraMiner IV Bitcoin ASIC mining rig. This is the company's signature miner, but has seen its price decrease, from $15700 to $5999, in what appears to be spurred by the existing market competition and rise in the mining difficult level.
Performance and design
TerraMiner IV is a Bitcoin mining rig that is one of the most powerful miners that's currently available for pre-order. While maintaining a remarkably efficient wattage rating, this Bitcoin mining rig offers unparalleled performance of over 2 Terahash per second. This represents one of the highest performance ASIC Bitcoin mining hardware announced so far. (But don't blink because I am sure the competition is working to top this).
This unit features CoinTerra's in-house designed, the Gold strike 1 technology. Which is designed by the some of the world's leading designers in ASICs that works for the company. The unit is designed to be used by mining professionals who would like to get the best ratio for the cost per performance of their ASIC mining systems.
Price: $5999
Key Features:
4U Enclosure 19″ x 7″ x 17.8″
Embedded controller to allow for standalone mining
Power Supply Included
(4) GoldStrike1
GF 28nm HPP
FCBGA Package
State-of-the-art Liquid Cooling System
1.4GHz clock frequency yielding a minimum of 2 TH/s per box (i.e. a minimum of 500 Gh/s per chip). There are 4 GoldStrike1 chips in a TerraMiner IV.
0.765V
Update: TerraMiner II – 1TH/s, Networked Miner (January 2014 Batch)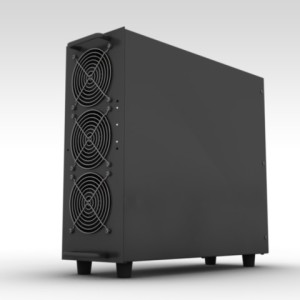 CoinTerra has recently fired back at the competition with the announcement of the TerraMiner II. This ASIC Bitcoin miner comes in at 1TH/s or (1000 GH/s) and will be one of the highest mining speeds on the market. Looks like they have raised the bar for the retail consumer (average Joe) on this one.
The unit will weigh in at about 27lbs and come self-configured, and  plug and play ready with the companies signature GoldStrike1 technology.
Price: $3,499
Key Features:
4U Enclosure 19″ x 7″ x 17.8″
Embedded controller to allow for standalone mining
Power Supply Included
GF 28nm HPP
(2) GoldStrike1 chips
FCBGA Package
State-of-the-art Liquid Cooling System
1.4GHz clock frequency yielding a minimum of 500 GH/s
0.765V
CoinTerra seems to be focus on commercializing the Bitcoin mining environment while still making it viable for the average bitcoin miner. Their line of products are powerful and will greatly impact the bitcoin mining landscape once it hits the market. This is definitely a company to watch!
Where can you get a CoinTerra TerraMiner?
Thanks for visiting www.topbitcoinmininghardware.com, if you liked this article please use our social buttons to give us the thumbs up. Also check out our Bitcoin Miner Comparison Table.