Overview
Headquartered in Switzerland, Bitmine AG is a developer and manufacturer of Bitcoin mining related materials.
Bitcoin as you should know by now,  is a peer-to-peer, open source digital currency and payment network. It uses cryptocurrency, a digital medium of exchange. A Bitcoin miner utilizes software to resolve math problems and receive a specific number of bitcoins in return. This is a way to manage cyptocurrency and create incentive for continued mining.
Bitmine encompasses a team of experienced technicians with extensive backgrounds in electronics and IT. Since their founding in 2010, the company has produced prototypes of Bitcoin miners. Initially working with GPUs and going through some FPGA mining prototypes, the company has now turned to the Avalon A3256Q48 ASIC mining chip. Bitmine is also hard at work on generating a proprietary and unique high performance ASIC mining chip.
Bitmine Reputation
The team at Bitmine has consistently proven their talent and determination to make a product that stands out in the industry. They have also produced accurate and realistic release dates through strategic planning and stocking of necessary components. To maintain and exceed expectations, Bitmine utilizes in-house production for its mining manufacture. This allows them to keep stringent controls in place and produce one quality product after another on deadline every time!
It is important to Bitmine to maintain an accurate planning schedule. They always want to be able to report that they fully respect and follow through on delivery terms. Continuously altering delivery plans is an annoyance to clients and damages the brand. This is why they compile as much detail as possible before beginning the project's production. That way there is less likely the chance of a misstep along the way. Bitmine instills their confidence in their delivery terms as all Coincraft based products are guaranteed through their Customer Protection Plan.
Bitmine Products
Bitmine CoinCraft Desk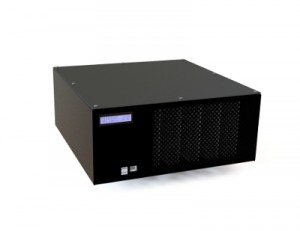 These products offer an unparalleled mining performance with a scalable hashing power of 200 GH/s that can achieve up to 1 TH/s in 200 GH/s increments.
It offers a clean bezel front display that allows immediate views of every unit's host name or IP address, current hashing power and system temp.
Features include:
Control unit based on Raspberry Pi board with ARM11 700MHz CPU, 512 MB RAM and 8GB flash storage.
Custom Linux operating system with Web based interface for easy configuration without any command line skills needed.
Front display with 16×2 characters.
Proprietary PowerTune technology allows for both low power and high performance operation.
From 1 to 5 modules of 200 GH/s each (nominal).
Hashing speed in power-save mode of 150 / 300 / 450 / 600 / 750 GH/s.
Hashing speed in turbo mode up to 300 / 600 / 900 / 1200 / 1500 GH/s.
Total maximum power usage in power-save mode of 80 / 160 / 240 / 320 / 400 W.
Total maximum power usage in turbo mode: 375 / 750 / 1125 / 1500 / 1875 W.
Uses a standard ATX power supply.
Bitmine CoinCraft Rig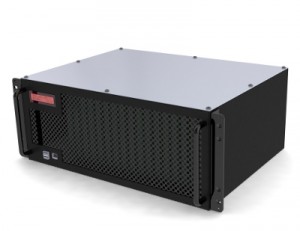 The series offers exceptional scalability. It's rack mountable with a capacity for over 15 hashing cards. It can be configured from between 500 Gigahash/s and 2 Terahash/s. With PowerTune, a proprietary and powerful feature, maximize mining speed with Turbo mode if difficulty is low, yet still utilize power saving to minimize operational costs and expand the unit's profitability performance.
The 19 inch rack mount case comes standard with brackets and 4U height. It has a Raspberry Pi board with 512 MB RAM, 700 MHz ARM11 and an 8 GB flash storage. Overall the Coincraft rig promises exemplary hashing power and power consumption in both power save and turbo modes.
Key Features Summary:
Available in 28nm technology from 500 GH/s to 2 TH/s in 250 GH/s increments, nominal.
Hashing power of 200 / 400 / 600 / 800 / 1000 / 1200 / 1400 / 1600 GH/s in power save mode.
Hashing power of 350 / 700 / 1050 / 1400 / 1750 / 2100 / 2450 / 2800 GH/s in turbo mode.
Power consumption: from 300W (400 GH/s, power save) to 3000W (2.8 TH/s, turbo mode) on a standard 110-230 V, 50/60 HZ AC power supply (included).
Standard 19" rack mount case with brackets and 4U height.
Control unit based on Raspberry Pi board with ARM11 700MHz, 512 MB RAM and 8GB flash storage
Custom Linux operating system with Web based interface for easy configuration without any command line skills needed.
Front display with 16×2 characters
Bitmine Coincraft A1 28nm ASIC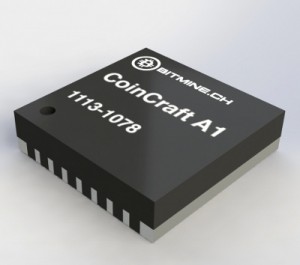 Bitmine's original design is a third generation of the Bitcoin Mining IC the company developed in conjunction with Innosilicon. It was engineered for deployment in huge binary tree structures inside of public and large scale mining environments.
It employs 28nm HPP tech and low voltage transistors and features the company's proprietary PowerBar tech. It comes with a standard SPI interface, hashing power of 25 GH/s in nominal mode and up to 40 GH/s in Turbo.
It has several supply voltage settings: 0.65 V in low power, 0.7565 V with nominal and 0.85 V in Turbo mode. It has a configurable daisy chain that can handle distribution of up to 253 ASICs. Mass production on this unit will be in full swing by January 2014.
Key Features Summary:
Developed on 28nm HPP process from Global Foundries
Custom IC package with power bars for low voltage, high current feeding
Configurable in daisy chain mode for distributed work with up to 253 ASICs.
Standard SPI interface
Hashing power of 25 GH/s in nominal and up to 40 GH/s in Turbo mode
Power usage of 0.35 W/GH in low power, 0.6 W/GH in nominal and 1 W/GH in Turbo mode
Supply voltage of 0.65V in low power, 0.765 V in nominal and 0.85 V in Turbo mode
Mass production available starting from the second week of December 2013
Conclusion
Bitmine wants to keep its clients happy and coming back. They have a trade-in program for anyone that has purchased a previous generation device. With a web based interface, a user isn't required to have lot of technical know-how. If there were issues, Bitmine provides an outstanding customer support network.
Compared to the competition, Bitmine assures a high level of profitability with their Bitcoin mining devices. They also want to make it clear that they take the client's time seriously, planning and making deadlines with no surprises. Bitmine strives to be the leader in its business.
Thanks for visiting www.topbitcoinmininghardware.com, if you liked this article please use our social buttons to give us the thumbs up. Also check out our Bitcoin Miner Comparison Table.