The Baby Jet is designed and manufactured by HashFast Technologies, a fabless semiconductor company that specializes in the production of high performance hashing ASICs chips. HashFast's primary mission is to provide the best technology for the network verification of digital cryptocurrencies, particularly Bitcoin. This company was founded in San Francisco earlier this year by Eduardo de Castro and Simon Barber.
Majority of HashFast products are high-performance ASICs. The, Golden Nonce (GN) microprocessor, HashFast's first chip under final developments is expected to perform at hashrates of about 400 GH/s. Although assembly might take more than two months, Golden Nonce microprocessor will be available for shipment to consumers in October 2013.
Introducing the Baby Jet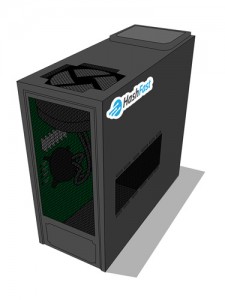 As noted before, the companies ASIC Bitcoin mining unit consists of one HashFast Golden Nonce (GN) microprocessor that is based on 28nm ASIC chip. At nominal clock speed, the Baby Jet can perform considerably at less than 1.0w per Gigahash. However, it can be underclocked to improve its efficiency or overclocked for superior performance.
One of the most striking features of this chip is its on-die thermal controls that allow the chip to operate at its absolute performance. It is necessary to mention that this equipment is exclusively designed for use in commercial environments. Ideally, this new Bitcoin mining unit might just be a winner in the industry.
Baby Jet Facts you need to know
System and chip specifications
As mentioned earlier, HashFast's Baby Jet contains one HashFast Golden Nonce (GN) chip, a chip that can operate under 350 watt power draw. An efficient liquid cooling system makes this ASIC Bitcoin mining unit more effective than some ASIC units in the Bitcoin network.
The system's chip is a 28nm custom ASIC with hashing output of up to 400 GH per second at peripheral clock speed. Baby Jet's less than 1.0 or 0.5 watts per GH can be achieved at minimal speed, underclocking or overclocking to enhance the machine's efficiency and performance better than 500 GH per second respectively.
The thermal controls are designed to monitor the unit's temperatures. This is tremendously useful when the system is overclocked. This means that all five core of the chip are made to run to enhance the system's performance, but this leads rising in temperature to unacceptable limits. The thermal controls help regulate the unit's temperatures by shutting down one of the cores to reduce heat output. As the temperature decreases, the core gets turned back on.
Payment and Shipping
If you want to buy this product from HashFast, then you will have to pay for it in Bitcoins through BitPay or directly via a BTC transfer. It is quite fascinating to note that the device's prices are usually quoted in US dollars, but payments must be made in BTC. You can place your order during pacific time in the market to get a better bargin.
Shipment of the Baby Jet is anticipated to begin in the next 3 months (october 2013), in order of purchase. Also, you should know that the shipping rates published on the company's official site might apply, but refund to the clients might be made if shipping rates will improve.
Hashfast continues to hold their own against top mining companies like KNCminer and CoinTerra. However with the latest devices from these companies, Hashfast needs to step-up their game.
Thanks for visiting Top Bitcoin Mining Hardware, if you liked this article please use our social buttons to give us the thumbs up. Also check out our Bitcoin Miner Comparison Table.