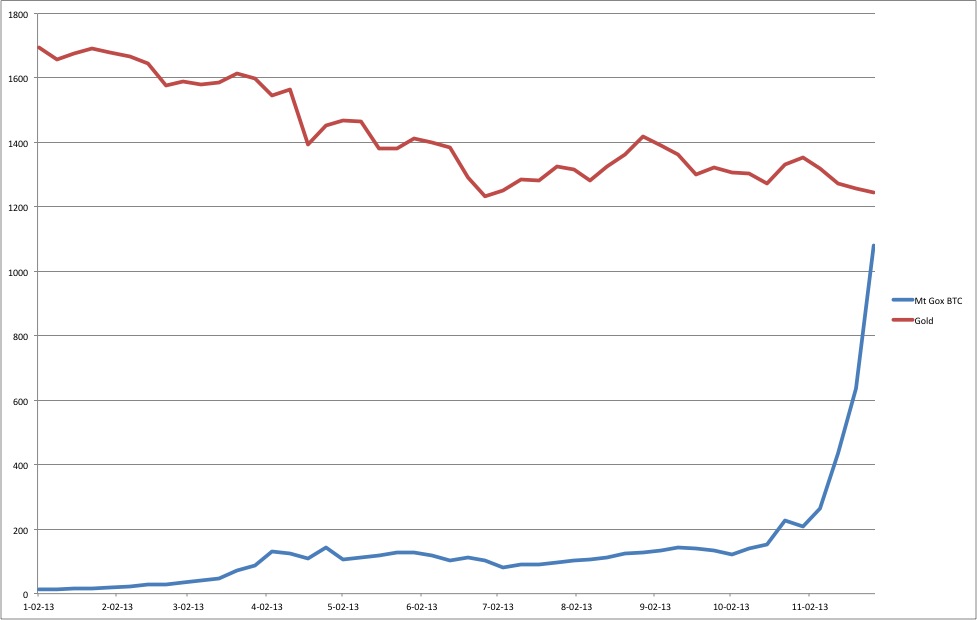 Bitcoin exceeded the price of gold on Mt. Gox this morning, an event bitcoin advocates say is symbolic for the virtual currency.
The price has since dipped, and at the time of writing is trading at $1,146 on Gox, below the gold spot price of $1,246 per ounce in US dollars.
The price of the coin, which broke $1,000 just a few days ago, has been rapidly approaching the price of gold, which has fallen in recent weeks. Today it reached a high of $1,242 on Mt. Gox, topping gold's $1,241.98 at the time.
Erik Voorhees, an early entrepreneur in bitcoin, was in jubilant spirits. Voorhees, who sold his gambling site SatoshiDice for 126,315 BTC this year, said that it was a psychologically significant event. He said:
"For believers, it means bitcoin is really becoming a 'respectable asset'. Clearly, bitcoin is no longer a penny stock. It's playing in the big leagues – a share being worth more than a share of Google or Apple, and even more then an ounce of gold."
"Many of us two or three years ago said that bitcoin could (and probably should) absolutely cost more than an ounce of gold. We were laughed at and ridiculed. Now we can just look and say, 'scoreboard!'."
This isn't bitcoin's first symbolic price threshold, points out Anthony Di Iorio, the head of Canada's Bitcoin Alliance, a national organisation that promotes bitcoin. "It went past $500 and then $1,000, and now it's past gold," he said. It is widely known that the value of the virtual currency surpassed silver long ago.
Falling gold prices
Bitcoin may have been rising to meet the price of gold, the precious metal has also fallen to meet it. The price of gold has taken a dive this year. At the start of the year, it sat at around $1,700 before plummeting to a yearly low in July.
It rallied to just over $1,400 in September, but since then it has fallen to a four-month low.
Gold's latest fall saw it drop $10 in around 10 seconds on 20th November. This drop accompanied news that the UK's Financial Conduct Authority (FCA) have begun an investigation into pricing methods for gold on the spot market (the market where people trade directly between each other).
Traditionally, gold spot prices are set during a London-based conference call between five banks. Prices from those discussions are used to set spot prices for gold worldwide.
In addition to the FCA investigation, the German regulator, BaFin, is also said to be exploring the issue.
Other issues affecting the price of gold in recent months include fears over a potentially early end to US stimulus measures, as stronger economic data emerges.When the …read more
Source: CoinDesk