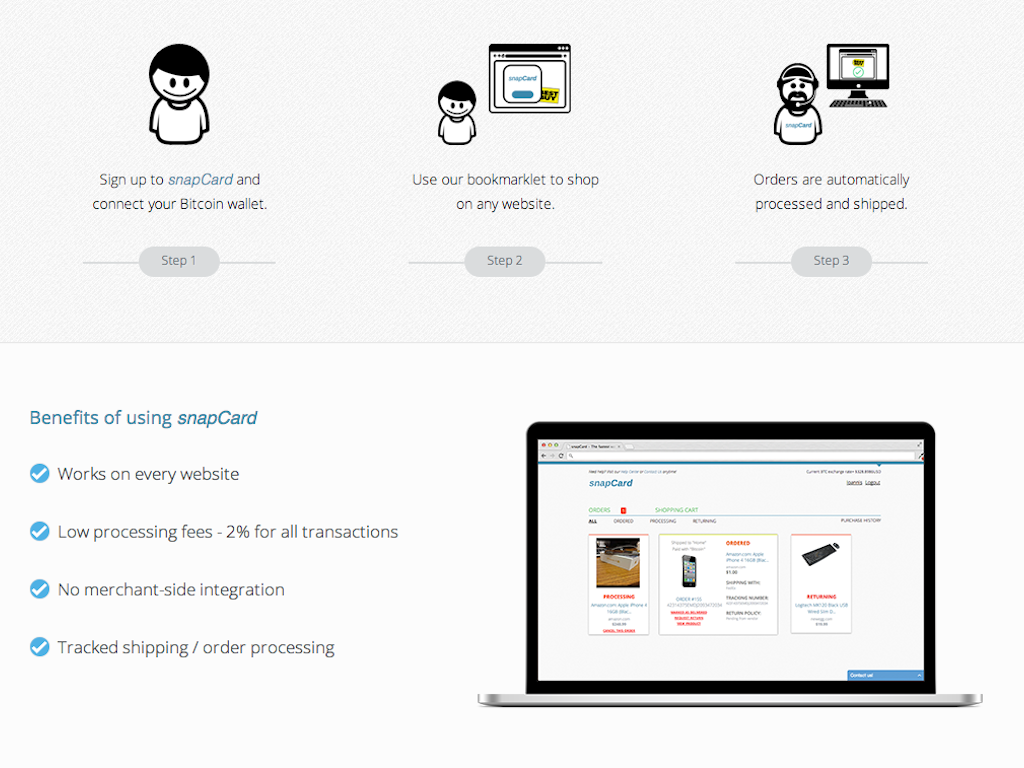 Online startup snapCard wants to make it easier to use bitcoins online by skipping merchant integration altogether.
SnapCard users can purchase items from major retailers, even if their e-commerce platform doesn't accept bitcoin. Users can also avoid logging into a retailer's website. Michael Dunworth, snapCard's co-founder, said:
"We want to make the shopping process as easy and fast for bitcoin users as possible."
SnapCard offers a bookmarklet that users can click on when they visit a product's page. The bookmarklet automatically grabs information from the product (like price and quantity) to create an item in snapCard's shopping cart.
After this, users can login to snapCard and checkout their shopping cart automatically using their linked Coinbase wallet. SnapCard acts as a kind of payment processor, debiting the transaction amount from the user and making the purchase with the merchant.
According to Dunworth, the company's service currently works on Target, Best Buy, New Egg, Amazon and Walmart. After launching a closed beta on 8th November, snapCard is now available to the public.
The service has around 1,000 users and has completed transactions worth more than $10,000. He said the selection of goods available ranges from MacBooks to beef jerky, mainly from sites like eBay and Amazon. Occasionally, he has observed some particularly unusual purchases. He commented that, in the past, someone had once bought a "competitive racing snail from Switzerland".
Dunworth hopes that a positive response from snapCard users would demonstrate to merchants the importance of accepting bitcoin on their sites. He said:
"Because of the reluctance among bigger merchants to accept bitcoins, we feel snapCard gives us an opportunity to see what users are spending their money on, and show [...] merchants that there is an opportunity among the bitcoin community."
For shoppers, snapCard's biggest disadvantage is its 2% transaction fee. There are other drawbacks too. Not all purchasing formats are supported on snapCard. For example, users can purchase eBay items with a 'Buy It Now' price but cannot bid on auction items. Additionally, users cannot apply merchant incentives like Amazon Prime to their purchases.
By contrast, rival platform Gyft offers users a discount for paying in bitcoin. Gyft's service lets users buy gift cards from merchants like Target using bitcoin and other payment modes.
In Gyft's case, if users pay in bitcoin they are given the equivalent of 3% of what they've spent in Gyft's loyalty points. Each loyalty point is worth $0.01. Gyft users paying with PayPal only get 2%, and those paying with credit cards get half of that.
Dunworth said he is working on offering similar incentives to his users in the future. He added:
"We would need to [offer incentives to users] – we want to stay competitive."
Unlike Gyft, Dunworth said his service didn't "lock in" shoppers at the bitcoin exchange rate when a giftcard was purchased. Instead, snapCard users can trade their bitcoins for fiat currency at the current exchange rate when they make a purchase.
SnapCard has raised funding from Boost, an accelerator and investment …read more
Source: CoinDesk