By Pete Rizzo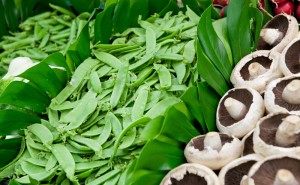 For San Diego's smaller merchants, it was easy to dismiss bitcoin as phoney money or a Ponzi scheme: a novelty that wasn't to be taken seriously. However one Minnesotan native, a sustainable grocer, is beginning to change their minds.
Michelle Larson-Sadler owns Conscious Cookery, a small business operated out of the Hillcrest Farmers' Market, which showcases more than 120 local merchants and craftspeople.
It's here that Larson-Sadler has been selling a selection of organic, heirloom and Fairtrade-certified foods since 2002. Not only is Larson-Sadler one of the longest-tenured merchants at the market, she's also unique in another way: "I stand apart from most as the first store in San Diego to accept bitcoin to pay for groceries." She told CoinDesk: "I find accepting bitcoin as payment for an essential basic is a very significant thing."
It's not just Larson-Sadler who is aware of her position. She says members of the San Diego Bitcoin Meetup group have begun speaking to vendors about accepting bitcoin at the market, and that her name frequently comes up in conversation. She explains:
"Whenever the meetup members mention my business, or my name, there seems to be an aura of credibility surrounding it, just because I am one of the longest running vendors at this [...] 17-year-old market."
The University of Minnesota graduate can't take all the credit for this distinction. She notes that her husband was the first family member to notice the virtual currency. Regardless, her decision is paying off; Conscious Cookery recently landed an unexpected high-profile mention in NPR (National Public Radio).
"My participation in the event was selling my goods as a vendor who accepts bitcoin," she said. "I had no advance notice that I was going to be plugged into an article for NPR."
With all this attention, it's easy to see why Larson-Sadler has high hopes for the alternative currency movement. She remarks: "I am on the front edge of the wave, and it is just a matter of time when people will start to use it at my stand and online."
A community reacts
Due to the growing buzz around bitcoin, Larson-Sadler says a number of her peers are currently on the fence about whether to accept the cryptocurrency or not. Although she understands their position, she believes it will inevitably change.
She cites the experience of Claravale Farm's owners, whom the San Diego Bitcoin Meetup group has been speaking to about the benefits of the currency. She said:
"Knowing the farmer's wife who comes down from outside Monterey, a seven-hour drive each way, and their long-standing raw dairy business – the second largest raw dairy in the state of California – I can totally understand their hesitation."
Larson-Sadler says this reluctance is especially prevalent among farmers, who she notes are already at the mercy of Mother Nature and the traditional banking system. "However, there is risk involved when it comes to money and banking," she said. "Our …read more
Source: CoinDesk