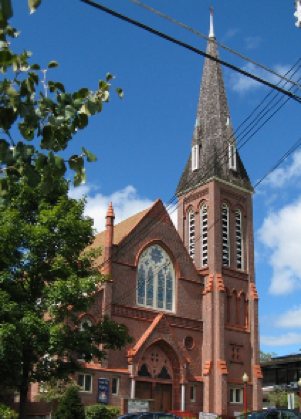 As people move away from slips of paper to digital forms of money, there's a possibility the concept of the cash donation might decline. But that's not the real reason Father Adaly Rosado Jr. from the Church of St. John the Evangelist in Goshen, NY decided to put a virtual currencies donation button on the parish's website.
"I put it up a year ago. I was just curious to see what would happen," Father Rosado said.
Unfortunately, only 0.488 BTC have been donated so far, which is around $60 at recent CoinDesk BPI rates. The church has over 2,900 registered parishioners, though, so if he can spread the word about digital currency, he could soon notice more bitcoin donations come flooding in.
Father Rosado believes that St. John's the Evangelist is the first Catholic Church to accept bitcoins and he thinks virtual currency donations can be much more useful than those in fiat currencies.
"In theory, in the future, you could exchange bitcoins for any currency. It would be faster to move money around," said Father Rosado.
He explained that traditional methods have failed him in the past – for example a check he sent to a youth group in the Dominican Republic was lost in the mail so he had to cancel the check and use a service similar to Western Union in order to send the money. All of this took time – time that could have been saved if bitcoin was used.
While St. John's biggest donation denomination is still in cash, Father Rosado has brought newer digital options to the congregation. PayPal and Parish Pay, a Christian-backed form of PayPal, is also accepted.
The church is also accepting litecoin donations. Father Rosado likened bitcoin to gold and litecoin to silver. "If people want to give us that, no problem. The way I see it, this is money that we would not have had otherwise."
The Catholic church isn't the only religious institution that has expressed interest in bitcoin. Jackson Beazer, social media supervisor at The Church of Jesus Christ of Latter-day Saints said his church is "very aware of and excited about technological advances and changes".
He went on to explain that Mormons have embraced many technological changes in recent years, adding:
"The Church is very much excited for and hopeful for any new change or technological tool that can help make life easier, more convenient, and will help us accomplish our purpose throughout the world as smoothly as possible."
Father Rosado is happy that someone decided to donate bitcoins to his church, but, due to the anonymous nature of bitcoin transactions, is unsure who it was. "I have no idea who put the 0.488 bitcoin in the account, but if these anonymous people want to donate, then we will accept it!"
No matter where it came from, it's clear that donations could and should become a big aspect of virtual currencies. Father Rosado suggested that the more these units …read more
Source: CoinDesk