By Emily Spaven
The Coinbase iOS app, which enabled users to buy, sell and send bitcoin, has been removed from the Apple App Store less than a month after its launch.
It appears it was Apple's decision to remove the app, as Coinbase engineer Craig Hammell revealed on Hacker News that his company was not responsible for taking it down.
Another forum member suggested the app was removed for "quality reasons", but Hammell responded by stating: "That wasn't the reason that Apple provided us with."
The iOS app, which was released on 22nd October, enabled users to see how many bitcoins they have in their wallets, plus view any recent transactions.
"We're not sure why it was taken down and we've reached out to Apple to request clarification," Brian Armstrong, Coinbase CEO and co-founder told TechCrunch.
At the time of release, Coinbase co-founder Fred Ersham said: "This was one more step in our mission to make bitcoin easier to use. Now that I have the iOS app, I use it to pay back my friends when I'm out and about since it's so much easier than other ways to do it."
Android users can still download the app from the Google Play Store, free of charge.
Other bitcoin wallet apps have also experienced problems with the App Store in the past, including the BitPak and Blockchain.info applications.
BitPak
The BitPak app was added to the App Store in late December 2011 but was removed in May 2012.
Back in early May, the app's designer, Rob Sama, received a notification from Apple stating that the application had been deleted. A post by Sama on the BitPak site states: "I had not been given any reason why, just a simple electronic notification that it had been done."
He then received a call from Apple around a week later and was told the app had been removed because "that bitcoin thing is not legal in all jurisdictions for which BitPak is for sale".
Sama asked which jurisdictions bitcoin was deemed to be illegal in, and was told: "That is up to you to figure out."
The developer decided to give up working on BitPak and focus on other projects, although he remains passionate that bitcoin wallet apps should be permitted.
"I still believe that the most logical place for a bitcoin wallet to reside is on the mobile phone. It is extremely unfortunate that Apple has chosen to take this stand. I know that there are people working on dedicated dongles to overcome this issue. And maybe that is the way this will play out," Sama added.
Blockchain.info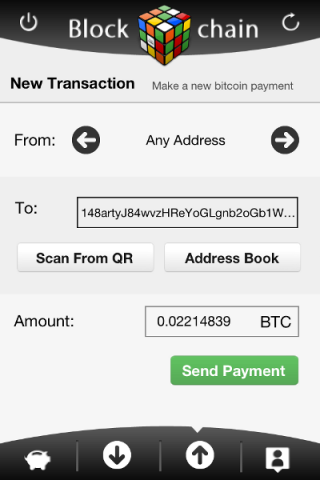 Blockchain.info currently has an iPhone app, which it describes as "A must-have app for bitcoin users".
Rated four out of five stars, the app enables users to send and receive bitcoin payments, view their wallet balances and scan paper wallets.
The first version of …read more
Source: CoinDesk