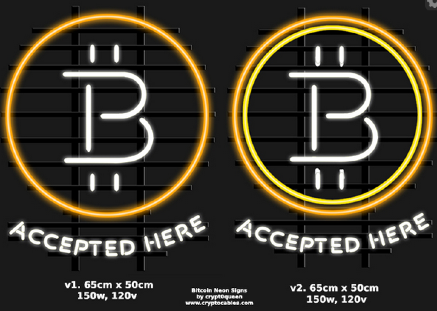 The neon bitcoin sign has arrived.
In order to add some pizzazz to the act of spending in bitcoins, a redditor has built a vibrant sign so that merchants can easily let customers know that they accept bitcoin.
"I only designed the initial concept of the sign and worked with a manufacturer in California to get them produced," said Crypt0queen, the entrepreneur behind the sign. Crypt0queen says that half of the sign inventory has already been sold after only being available for a 24-hour period.
There are entrepreneurs working to make bitcoins easier to accept at business' point of sale (POS) system, but accepting BTC is no good unless people actually know it's accepted.
The sign measures 65cmx50cm, or 25inx19in and uses 65.5 watts from 120 volts. It is currently only available with USA standard UL plugs.
Who are they for?
"I would say that brick and mortar stores could benefit from this a lot," says Crypt0queen.
Merchants without storefronts looking to attract bitcoin customers might be interested in something like a brightly lit neon sign. The Cheese Wizards, a mobile grilled cheese truck in Seattle accepting bitcoins, are currently using a makeshift sign.
"At the moment, we just have a homemade 'We accept bitcoin' sign in the window, but we plan on something with a little more panache soon," Bo Saxbe, one-half of the Saxbe brother duo running the truck, recently told CoinDesk.
Given this sign's use of neon to capture people's attention, it could make sense for these to be used in casinos as well.
Ardon Lukasiewicz, whose company Bitmarkers is attempting to implement bitcoin services into real-live casinos, believes these signs could be beneficial for casino operators.
"The instant that ATM machines can do both BTC and USD, I would be pushing to have something similar to them in the casinos," says Lukasiewicz.
The default "bitcoins accepted here" is the most common logo that many people see. Those are promotional graphics that are hosted on the Bitcoin.it website, the same place where the bitcoin wiki is located.
The bitcoin neon sign can be purchased from the Cryptocables website, where it is currently priced at $225, plus the shipping costs for a 16 pound, 2