By Emily Spaven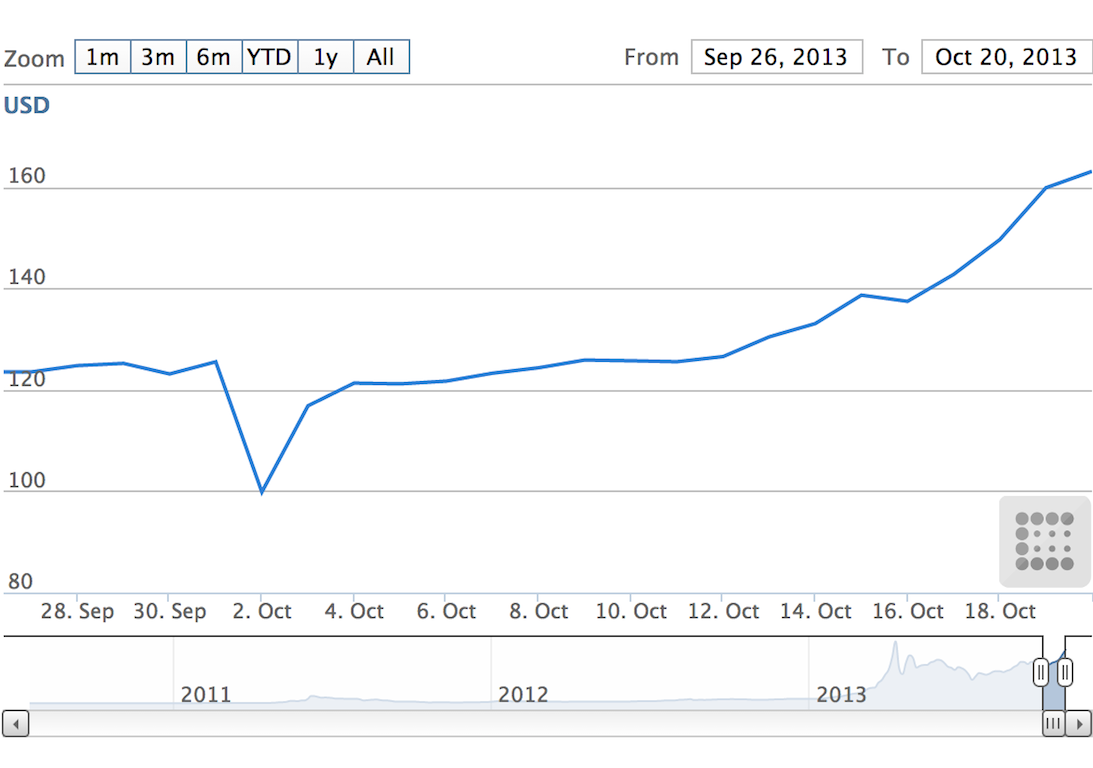 The price of bitcoin is currently at its highest level since 10th of April, when the value experienced a massive surge amidst the financial crisis in Cyprus.
In fact, there have only been two days in the history of the digital currency that the price of bitcoin has been higher than the $171 it is now, at the time of writing.
But what is causing the current spike? Well, it seems there are a few possibilities.
The demise of Silk Road
The closure of black marketplace Silk Road by the FBI on 2nd October was seen as a real make-or-break moment for bitcoin – if it could weather this storm, it would prove itself as a durable and trustable currency.
And weather the storm it did. The price of bitcoin fell from $125.49 on 1st October to $99.81 on the 2nd, but the very next day, the price was back up to $116.82 and it hasn't really stopped rising since.
There are a number of arguments as to why the closure of Silk Road could have helped to increase the price of bitcoin.
Could it be that bitcoin is in greater demand simply because more people know about it due to global mainstream media coverage of the Silk Road fiasco?
Perhaps. But many people, I'm sure, would also have been put off going anywhere near bitcoin after learning about its integral part in a website selling drugs, weapons and all sorts of other dodgy criminal necessities.
Maybe people are flocking to buy bitcoin now because they think its dark side is dead and buried, leaving legitimate and respectable businesses in the space to flourish. But … this isn't really the case, as there are already a number of alternative dubious sites jostling to fill the void left by Silk Road.
Nevertheless, Jon Matonis, executive director of the Bitcoin Foundation, believes the recent price increase is, in part, due to the closure of Silk Road and bitcoin's resilience to this.
"[There was great] relief in the market that Silk Road was not the only price support, which has taken the market to new five-month highs," he explained.
The thing is, Silk Road is pretty much yesterday's news now, yet the price of bitcoin is continuing to rise, which suggests there are other factors in play.
US government shutdown
Bitcoin's period of growth coincided with the US government's shutdown. Coincidence? Or was it a sign that people were terrified the value of the dollar was going to nosedive so started to bulk-buy bitcoins?
As touched upon earlier, a lot of people put the huge increase in the price of bitcoin back in April down to the economic crisis in Cyprus. This saw many people lose faith in their central currencies and turn to bitcoin.
Perhaps the same happened in the US. Jaron Lukasiewicz, CEO of bitcoin exchange Coinsetter, told CoinDesk last week: …read more
Source: CoinDesk