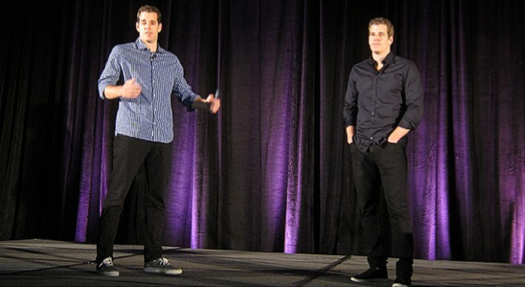 It's important to put money where your mouth is. Of course, if it is BTC, then putting bitcoin where your mouth is makes all the difference.
The proclamation of former Facebook executive and investor Chamath Palihapitiya that he owns $5 million in bitcoins, around 23,000 bitcoin at current CoinDesk BPI prices, is an exercise in confidence for the electronic currency.
And the fact that he wants to own at least $10 million more shows serious investor interest in a new type of asset class that some critics have in the past considered worthless.
The Winklevii
The Winklevoss brothers, benefactors of an early relationship with Facebook founder Mark Zuckerberg, have been considered some of the biggest investors in bitcoin, but that has been relatively underreported in comparison to Palihapitiya publicly discussing his bullish views of bitcoin.
Business Insider reported back in April that the twins own 108,000 BTC. At recent prices, that's over $26 million.
No one can say for sure when the Winklevii purchased their hoard of bitcoins, but they've probably made off quite well.
Their investment in BitInstant, however, doesn't appear to being doing as well.
That company has had a number of public relations problems, as the decision to include the word "Instant" in the company's name has proven that actions need to be backed up by words.
At least the Winklevosses are backing up their words with bitcoin actions. But sometimes, their comments can be a bit too much.
For example, the comment that a country could switch its currency to bitcoin is rather far-fetched since that would effectively isolate it from trading partners, North-Korea style.
Chamath Palihapitiya's stance
There's no lack of enthusiasm about bitcoin from Palihapitiya, who like the Winkleoss twins has a connection with Facebook, being at AOL and then the social network in it early stages.
Palihapitiya told an audience at TechCrunch Disrupt earlier this year that bitcoin is "everywhere that you have currency pressure, everywhere you want to basically shield your assets."
"After that, it will probably become a payment mechanism," he said at the TechCrunch Disrupt NY conference, held last April 27-May 1.
But unlike the Winklevoss twins, Palihapitiya doesn't believe that investing in bitcoin companies is really a good idea, at least not yet. However, he does believe in the asset itself.
"Right now you just want to own the underlying commodity," he told journalist Robert Scoble in an interview.
"Google didn't choose to be in the US dollar business, Google is a business that is amazing that just happens to get paid in US dollars."
"Similarly, I'd rather own bitcoin", than try to find a great bitcoin company, he said. And that makes sense. No one knows right now what will happen with bitcoin in terms of regulation.
It's still very murky water for an investor to wade into. Bitcoin-based businesses may have to shift strategy based on governing bodies and the type …read more
Source: CoinDesk